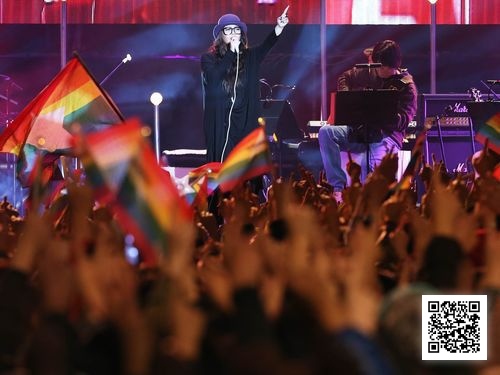 Close to 20,000 fans braved the cold and wet weather Sunday to attend Taiwanese pop star A-mei's free outdoor concert in Taipei that was held in support of the legalization of same-sex marriage.
"The concert was planned too hastily, all my makeup artists are busy," said A-mei, who sported a simple black outfit, purple hat and black-rimmed glasses, at the start of the concert, to roars from her fans.
The pop diva kicked off the unplugged concert with her hit "Sisters," followed by emotive performances of "My Dearest," "Can I Hug You, Lover" and "I'm Willing," with the audience singing along.
The English song "Amazing Grace" was among the 22 selections that she performed at the concert.
"The weather is so cold. Do you feel warm?" the diva asked, to which the crowd yelled "yes!"
"I heard that someone brought their parents here. That's right. We are here today to let everyone, including our parents, know about our love," she said.
"So today, show your love generously," said the 41 year-old singer, the first entertainer to sign a petition in support of a same-sex marriage bill in Taiwan.
Many fans held rainbow flags, which symbolize lesbian, gay, bisexual, and transgender pride.
Toward the end of the concert, the aboriginal singer told the crowd she had three points to make.
"First, respect love. Second, respect everyone's love. Third, support true love."
During the song "Rainbow," people in the audience held hands aloft in a show of unity. The concert ended with everyone dancing to the strong beat of "Three Days And Three Nights."
The free concert kicked off 6 p.m. at Huashan 1914 Creative Park, but thousands of fans had already gathered at the outdoor venue hours before it began.
A-mei paid the estimated NT$3 million (US$100,625) in costs from her own pocket, her agent said.
In an interview with reporters prior to the concert, A-mei said she proposed holding the concert 11 days ago and told her agent she wanted to do it right away instead of waiting for months.
She thanked everyone who helped make the concert a success in such a short period of time, calling them "volunteers."
Everyone at the concert was given a sign that read "Amei x Love" and "In Love & Proud" to wear around their necks.
Noboru Chen, 31, said it helps the gay rights movement to have such a big-name star stand up for the gay community.
"She (A-mei) is like a family," said Chen, who came to the concert with several of his friends.
Dragon Lin, 39, said he was "very touched" when he learned about A-mei's concert and felt that he needed to attend the concert to show his support.
"The recent discussions mean that people are willing to face the issue," Lin said. "It gives us an opportunity to be known instead of hiding in dark places and hiding our sexual orientation."
A draft bill to legalize same-sex marriage and allow married gay couples to adopt children cleared the first reading in the Legislative Yuan in October.
Gay, lesbian and civil rights groups in Taiwan have been pushing for the legalization of such unions for years.
Last month, however, tens of thousands of people took to the streets of Taipei in protest against the draft bill.
Source URL: http://focustaiwan.tw/news/aedu/201312220023.aspx